We dressed like Muslims
scarves and black abayas
beautiful shoes
no makeup yet under our hijabs
our hair was long and glorious
we were deliberate and pious
we lowered our gaze
and remained chaste
the world moved quickly
we moved slowly
through our five daily prayers
our husbands were enigmas
coming and going
through a curtain
touching us as if strangers
grateful for food, children
and purdah
we were God conscious and
conscientious
we lived in our safe world
of sisters, masjid, and Arabic
holding our breath
from Ramadan to Ramadan
*****
Abaya - long traditional over-dress
Hijab - head scarf
Purdah - seclusion of women
Masjid - mosque
Ramadan - Holy month of fasting and prayer
that absolves previous sins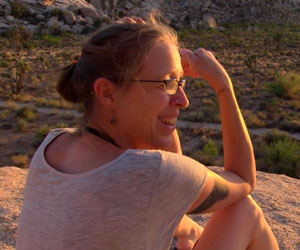 The cottonwood I lived in as a child was
A row of eucalyptus trees along Baseline Road
long before the 210 Freeway was there
on the way to Crestline, Apple Valley,
Las Vegas ­— it was a windbreak
always shuddering as we drove by
in Pop's pink 1959 Cadillac.
A magnolia in the front yard
of Grandma Alyce and Pop's house
whose fat seed pods
we pretended were hand grenades,
whose glossy leaves I picked up off the dichondra
as Grandma Alyce forever pulled weeds
along the edge of Pop's special front lawn.
A lone oak on the top of the hill
behind the open fields, behind the small fence
behind our cheap tract home on the cul-de-sac
in 1966 Southern California.
How to End War
Close bases all over the world. Turn them all into public housing.
Be nice to other countries, send them flowers,
throw parties for them.
Invite people you love and those you don't know well
but want to know better.
Prepare festive plates of food and cold beverages of all types.
Decorate your house with sparkly lights and candles.
Make Halliburton employees and CEO's do all the cleaning.
Make a mix tape of all your favorite music infused liberally with Dance music.
Dress in your brightest clothing and wait for your friends to arrive.
Remove the word Military from the dictionary.
Hug and kiss everyone.
Everyone.
"We dressed like Muslims" and "How to End War"appear in the book, History of Butoh published in 2012 by Writ Large Press.